We are at the core of our very heart a track bike brand, always have been, always will be. Because of that, we wanted to up jump our velodrome game, and create a full on race specific alloy sprint monster.
Enter the Thunderdome.
We've taken our tried and true Big Block geometry and adapted it to a shorter axle to crown carbon fork and alloy frameset. Because we love the lines of the old Cannondale track bikes, we went with traditional round tubing, a standard 1 1/8" headset, and to give it that AC touch, polished panels on the downtube and chainstay.
It is stiff, fast, and ready to race.
Features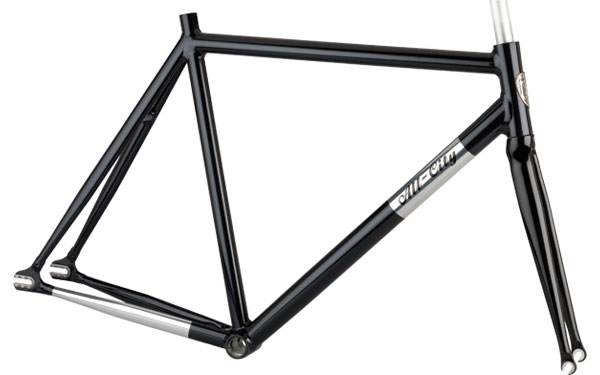 Track Racing Geometry
Velodrome ready angles and BB height, custom designed to rip it up on our wooden and steep local veldrome.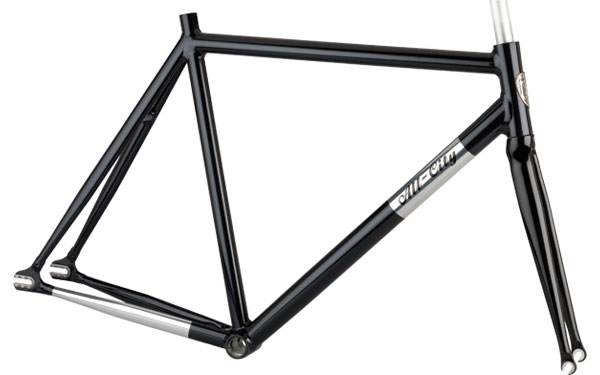 Aluminum Tubeset
7000 Series Alloy tubeset for the ultimate in stiffness and weight savings.
Carbon Fork
AC Carbon track fork w/ alloy steerer.
Polished Panels
We beautifully polish the downtube and chainstay panels, then apply a nice wet paint clear coat.
Build Specs
Frame: 7000 Series Aluminum
Fork: Carbon with alloy steerer, drilled for a brake
Headset: Standard 1 1/8"
Bottom Bracket: 68mm
Rear Spacing: 120mm
Seatpost: 27.2
Seatpost Clamp: 31.8
Tire Clearance: 700 X 25
Geometry pt 2
| | Size | 49 cm | 52 cm | 55 cm | 58 cm |
| --- | --- | --- | --- | --- | --- |
| | Head Tube Angle | 73.5° | 74° | 74.5° | 74.5° |
| | Seat Tube Angle | 75° | 74.5° | 74.5° | 74.5° |
| | Top Tube Length | 535 mm | 550 mm | 565 mm | 585 mm |
| | Seat Tube Length | 490 mm | 520 mm | 550 mm | 580 mm |
| | Chainstay Length | 396 mm | 396 mm | 396 mm | 396 mm |
| | Bottom Bracket Drop | 58 mm | 58 mm | 58 mm | 58 mm |
| | Fork Offset | 30 mm | 30 mm | 30 mm | 30 mm |
| | Total Fork Length | 370 mm | 370 mm | 370 mm | 370 mm |
| | Head Tube Length | 110 mm | 130 mm | 150 mm | 175 mm |
| | Wheelbase | 955.6 mm | 961.1 mm | 971.8 mm | 991.8 mm |
| | Standover | 772 mm | 796 mm | 821 mm | 847 mm |
| | Stack | 524.6 mm | 545.3 mm | 566.1 mm | 590.2 mm |
| | Reach | 394.4 mm | 398.8 mm | 408.0 mm | 421.3 mm |
Part Numbers
| Part Number | Size | Color | Description |
| --- | --- | --- | --- |
| FM4766 | 49cm | Black / Polished | Thunderdome Frameset 49cm |
| FM4767 | 52cm | Black / Polished | Thunderdome Frameset 52cm |
| FM4768 | 55cm | Black / Polished | Thunderdome Frameset 55cm |
| FM4769 | 58cm | Black / Polished | Thunderdome Frameset 58cm |